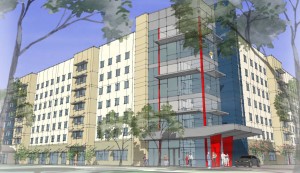 FAU's newest dorms are anything but your standard residence hall.
The new seven-story building will also include two floors of study lounges, classrooms, conference rooms, computer labs, a gym and lakeside dining options. It's being constructed over Lot 24, on the corner of St. Lucie South Avenue and Indian River Street.
Trucks roared past beeping machinery — it was hard to hear FAU President Mary Jane Saunders as she talked about the 614-bed dorm during the groundbreaking ceremony.
Crammed under a tiny white tent, a hundred students, faculty and staff listened as leaders from across the university spoke. Charles Brown opened the ceremony with welcoming remarks at 8:30 a.m. today, Aug. 6.
Brown is the vice president for Student Affairs.
"The construction of this residence hall will allow us to house more students on campus," Brown said. Saunders estimates the university dorms will house 4,200 residents total once the building is complete.
Not only will the seven-story dorm house students in its 400 single rooms and 200 double rooms (in four-person suites), it's the first FAU dorm with a faculty-in-residence program, meaning some faculty will live among students.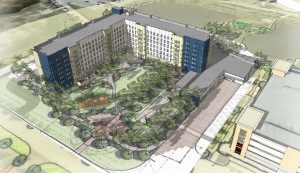 FAU Trustee William McDaniel is the only professor on the board of trustees, as the current president of the university Faculty Senate. The board of trustees and the Florida board of governors approved funding for the dorm project in June.
Each faculty senate president sits on the board for the length of their term. Faculty members will share dorms with students, but McDaniel won't be one of them.
"I think they'll pick one of the younger professors, who just came here and probably needs housing," McDaniel said, "maybe assistant professors."
Faculty-In-Residence programs are a growing trend, according to SG Vice President April Turner. Turner mentioned Cambridge, Harvard, Miami and Illinois as universities with top faculty residence programs.
"The list of schools that don't have it is shorter than the list of schools that do," Turner said. "It's very popular now."
The $46 million project is funded by bonds the university sells once students pay housing fees as part of their tuition. The construction team working on the dorms is Cummings-Balfour Beatty, the same joint venture that constructed the $70 million FAU football stadium, and the IVA dorms as part of of the $121 million Innovation Village project.
FAU will pay for leasing, marketing, student programming and residential life, while Cummings-Balfour Beatty will pay for property, management and physical operations for all housing facilities on campus, according to a press release.
"This is great for the students," SG President Robert Huffman said. "It brings more opportunities for them to live on campus and have the real college experience."
Housing in this dorm will be geared to freshmen and sophomores, according to Saunders.
"It's a real commitment to our students, to have another residence hall designed for first and second year students," Saunders said. "It's going to be very important to them as they choose FAU."
Constance Scott, a member of the Boca Raton City Council was at the groundbreaking.
"The city of Boca loves the students and loves the university," Scott said. "We are a college town."
Scott agrees with the new dorm being geared toward new students.
"I think it's really important for freshmen to be close to campus," Scott said. "It gives a real sense of college life when freshmen are close to their classes."
The dorm will be ready for resident faculty and students to move in next fall.