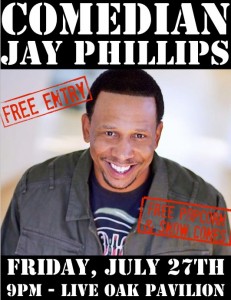 For the second time in two months, a comedian is coming to FAU.
Jay Phillips is performing this Saturday, July 28,  in the Live Oak Pavilion, located behind the Student Union at 9:00 p.m. Comedy nights are put on by Program Board, a division of Student Government. This comedy night, and the one last month, is part of Summer Splash 2012, a series of programs for new students starting this fall. Free popcorn and snow cones will be handed out at the event.
According to his website, Phillips performed on HBO's Def Comedy Jam in 2006. Since then he has also been on B.E.T. shows, including The Funny Spot.
Phillips has also performed stand-up in Washington D.C., and his hometown of Baltimore, Md. Recent film credits of Phillip include Semi-Pro with Will Ferrell, Prom Night with Brittany Snow, and Baby Mama with Tina Fey and Amy Poehler.
"I watched a couple minutes of his stand up on YouTube, and my board liked him," Lexi Rosario said. Rosario is the program board director and a sophomore finance major.
On June 29, Program Board hosted comedian Sean Patton. The night was one Rosario wanted back.
"I was not impressed," she said afterward. "Not at all."
Many students left before Patton finished his act, and Rosario also pointed out her board was not responsible for hiring the last comedian.
"So hopefully this one is better then the last one," Rosario said.
"My board has nothing to do with the movie nights or picking the comedians," Rosario added. "Basically, none of the summer events had to do with my board. It was all the last board."
After the last comedy show audience members said that Patton was crude. Students may, however, find comfort in Phillips' preference to keep his act clean.
"But even when he curses," his bio states, "it's never overboard."
Philips is used to doing stage shows, having performed at comedy clubs such as The Improv, The Laugh Factory and Uptown Comedy Club.
Summer Splash 2012 started in late June and has been going on all summer. Some events include Steps to the Workplace: Resume 101, Futbol on the Lawn, Open Mic Night, Movie Nights and an Ultimate Frisbee Tournament.
Summer Splash 2012 continues until Sunday, Aug. 5. For a complete list of dates and events visit http://www.fau.edu/freshman/Summer_splash.php.