ORLANDO — Starting next semester you'll be paying higher tuition for fewer campuses, classes and faculty.
Today, the Florida Board of Governors approved FAU's proposal for a maximum tuition increase of 15 percent. The Board comprises of the 17 highest ranking officials in the Florida State University System. Their meeting took place in the Live Oak Room at UCF to decide on the increases.
Although nine of Florida's 12 public universities requested the highest increase possible, the Board granted only FAU, FIU, New College and UCF's requests. Other schools were granted compromises in their proposals.
The tuition hikes are a way for the universities to recover the money lost when the state legislature cut $300 million from the university system in May. FAU is facing a $24.7 million cut as of July 1.
"To enable us to continue to serve the highest and best interests of our students, we are asking the Board of Governors to allow us to raise tuition by 15 percent," FAU President Mary Jane Saunders said in a statement Tuesday.
President Saunders refused comment during and after the Board of Governors meeting today and objected to her picture being taken at a public meeting. "That's inappropriate," she said.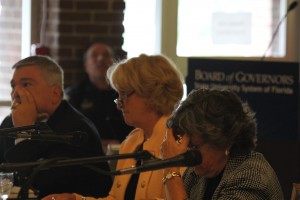 The Board voted for each university's tuition increase one at a time. In its first round of voting, the Board couldn't reach a majority to approve any increases. UCF, the first school voted on, was denied 15 percent, 13.5 percent, 12 percent and 9 percent increases after a failed vote for each percentage.
Then a five minute recess was called. After that, the Board approved UCF's 15 percent increase among the other universities.
When the time came for the Board to vote on FAU's increase, the only student on the board voted yes.
"I thought it was in the best interest of the students in the long term and for the university as a whole," Cortez Whatley said. "I will admit, these aren't light decisions, these aren't easy decisions."
Whatley is the student body president at UCF who got a vote and a seat on the Board of Governors after becoming president of the Florida Student Association.
Saunders and the Board clapped after FAU's vote passed.
[Ryan Cortes contributed to the reporting of this story.]