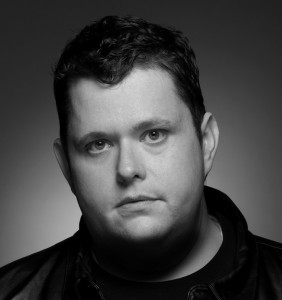 What: Homecoming Comedy Show
When: Wednesday, Nov. 2 at 8 p.m.
Where: Barry Kaye Auditorium
How much: Free for students
One of them is famous for having cerebral palsy, one is overweight, and the third tweets things like: "U notice that black people are powerful indivisuals, but weak as a peope?, while the Jewish, without talents at all, rule as a people?"
Meet the comedians who will be at the Homecoming Comedy Show.
Ralphie May, Toby Roberts and Josh Blue are the stars of the show on Wednesday, Nov. 2, at 8 p.m. at the Barry Kaye Auditorium on the Boca campus. It is free for all students.
Blue, who is best known as the stand-up comedian with cerebral palsy, entered the national comedy scene when he won NBC's Last Comic Standing. He currently has a special on Comedy Central called Comedy Central Presents: Josh Blue.
Carey Jones, the Student Union Chair in charge of organizing the show, said that it was Blue's talent, not his disability, that made him an appealing choice.
"I just thought he was funny," he said. "His humor was appropriate for a college comedy show."
The main act of the show is Ralphie May, most known for his controversial ethnic jokes and his Comedy Central series, Prime Cut. He has also appeared on The Wayne Brady Show and The Tonight Show with Jay Leno, according to his official website.
The controversial sense of humor that brought May to fame continues off the stage. He was arrested in Guam on Sept. 28 for marijuana possession after petting several K-9s at the Guam International Airport.
May also recently announced an addition to his merchandise line with a T-shirt that says, "I'm more stoned than a biblical whore", which, when purchased, allows the consumer to have an interactive experience with him through a web cam.
The third performer, Tony Roberts, has been on HBO's Def Comedy Jam, BET's ComicView and It's Showtime at the Apollo.
According to his website, the "comedian's comedian" has toured some of the most famous comedy arenas in the country, including All Jokes Aside in both Chicago and Detroit and The Comedy Act Theater in Los Angeles.
Roberts' stand-up act was noticed by the legendary sitcom director and comedian David Steinberg, who called him a "break-out talent" and cast him in a series of funny Burger King commercials.
Last year's comedy show featured Godfrey, Mitch Fatel and Aries Speals — three stand-up comedians who are also well-known for their TV shows and appearances.
Judging by some students' reactions, it seems that the Board is doing something right.
"Me and all my friends laughed so hard at last year's show," said Kevin Withstandley, a senior business major. "I'm excited to see if this one is going to be just as good."