Tat, tat, tat it up
Most of FAU's athletes don tattoos — lots of them. The point guard on the basketball team, for example, got his first tattoo when he was 14 years old. Since then, Ray Taylor's gotten 14 tattoos, which cover most of his arms and stomach. And on his chest is a word bubble with his trademark saying: Oh!
Defensive end Jamere Johnson, from FAU's football team, believes that nearly 75% of his teammates are marked. His teammate, safety Demetrius Williamson, has a mural of an entire city inked onto his body. And wide receiver DeAndre Richardson has so many tattoos that he's lost count.
The UP combed the locker rooms in order to find the best and baddest tattoos that the athletes of FAU sport.
Jamere Johnson
Even though he's 6'4" and 270 pounds,  Johnson answers every question with "Sir" or "Ma'am." He even waited until he was 21 years old, respecting Mom's wishes, to get his first tattoo.
Now 22 years old, he hasn't stopped getting inked up. Catching up for lost time, he now has 11 tattoos.
His favorite is a pair of guns on his left arm, Texas six shooters, which represent home for Johnson.
---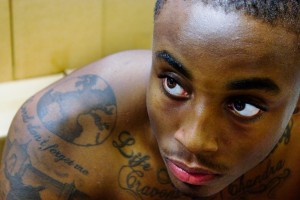 Demetrius Williamson
The world is on his shoulder — figuratively.
At the top of Williamson's right arm is a globe tattoo, symbolizing the weight of the world burdening his shoulder at all times. Of his 11 tattoos, it's not even his favorites. That would be the one on the inside of his arm, a memorial of Daytona Beach where he came from. Behind a slate of smoke are the words "Daytona Beach," with the city's area code, 386, inside of it, next to buildings from the city.
"Every time I look at it," Williamson said as he admired the art on his arm,"It just takes me back."
---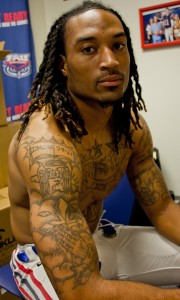 DeAndre Richardson
There are so many tattoos on his body that he can't remember how many there are. And, for a while, his teammates didn't even know he had any.
"I had all these tattoos before I came here, so most people didn't know but as soon as I took my shirt off, [they were] like 'dang, you're tatted up,'" Richardson said.
His favorite tattoo is of a cross intertwined with praying hands on his right arm. The names of his two sons, Drayvon and Jayden, are on the bottom of it.
"After I got this tattoo, well, the rest of my body looked plain," Richardson said. "So I just started adding more."
---
Ray Taylor
He lifts up his shirt and shows off his favorite tat. On Taylor's stomach are the words "Hungry and Humble," outlined in red ink and smoke, with a basketball in the middle, linking Hungry to Humble.
"Basically, that's how I live my basketball life," Taylor said about his favorite piece of ink. "Because humble, that's how you have to stay if you wanna get better, and playing for coach Jarvis, you don't have any choice but to be humble and hungry."
On his chest is a tattoo of a word bubble, with "Oh!" inside of it. He says it all the time when he plays, so it's kind of a trademark.
"If I had a mic on while I was playing, anytime I beat somebody, I'll say it," Taylor said. "Oh! I say it a lot."
---
Inkology
FAU has studied tattoos since Fall 2010 — here's the latest:
The popularity of ink isn't unique to  the FAU's sports department, according to a campus study about tattoos.
Assistant professor of art history,  Karen Leader, is the principal investigator in a study on tattoos. According to Leader, nearly 1,200 students answered questions about their tattoos — students of different gender, race, religion and political leaning.
"We had people respond from every major in the university," Leader said. According to the study's website, a deeper meaning could be found behind the tattoos. "With the survey and the events leading up to it, we started a conversation about tattooing as something much more than a fashionable trend." One of the main questions Leader and her study will attempt to answer, is what the perception of tattoos will be in 5, 10 or 15 years. "I think young people are getting bigger tattoos than, say, people like me. But, I mean you watch a basketball game and you can't get away from it," Leader said. [source: storiesontheskin.org]