Maher's Money
Student government's top man gets more pay and benefits than eight other state university SG Presidents.
President Ayden Maher's $18,871 compensation package comes from student fees as do the other SG presidents' and is bigger than that of UF ($10,495.56), FIU ($13,000) and USF ($17,189).
It's 3rd to UNF's ($20,984.72) and UCF's ($20,800). When asked his opinion on why those two have larger compensation, Maher said, "I think it's determined by the students and the student leaders, what the package should entail."
Maher's also one of two state university SG presidents who gets paid tuition ($4,938) for the 2011-2012 academic year, and one of four who gets an exclusive parking spot ($683). Those are included in his full compensation.
All compensation covers the 2011-2012 academic year.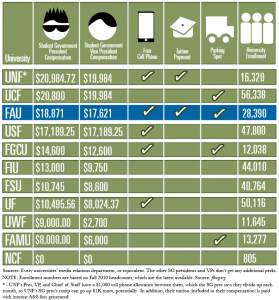 Maher feels what he receives isn't very large for what he does.
"This is a job in which you work above and beyond the 20 hours per week. It's a seven-day-a-week job. You work on the weekends, at night, and the mornings, and you can't work a job outside of school. And so the compensation package is relatively modest for the amount of work."
UF SG President Ben Meyers seconds Maher's sentiment about the student body president's workload. "Student Body President is a full time job. Whoever holds that office is unable to work outside of it to support themselves."
Maher also feels that because FAU has multiple campuses throughout South Florida, he works more than other student  presidents.
"I'm the student body president of seven campuses. The UCF student body president is the president of one campus for example. I had to go to Jupiter [campus] last night. A few days before that, the Davie [campus] … At USF, for example, they have about four student body presidents. At  FIU,  they  have two  student  body  presidents  for  their  two campuses. The amount of work is more."
Given all this, the UP posed the question, "If students help pay for Maher's salary, tuition, and parking spot, what has Maher done for students?"
According to the SG's constitution and statutes, the president's duties include being a voting member on FAU's Board of Trustees (which votes on university policy), signing/vetoing SG legislation, appointing cabinet members, reporting to legislative meetings, giving the annual State of the Student Body Address and leading certain SG meetings.
Maher's done more than that.
Since he took office in 2010, Maher's helped create and fund the LGBT resource center and initiated the Student Union's renovation, among other things.
He also supported increasing tuition and vetoed legislation that would've let students vote their opinions on changing FAU's anti-discrimination policy.
"Student Government is like a restaurant. You see the hostess, the wait staff, the tablecloths and the aesthetics of the front of the house" says Maher, "but you don't see what's really happening to make your dining experience, and that's the cooks in the back, the busboys, the dishwasher working in the back to make your dining experience the best that it can be. And that's what Student Government's like."
Got what it takes? 
According to the SG's rules, students looking to become president must first have at least a 2.5 GPA and take at least nine undergrad credits (or six grad credits). After winning the election, they have more rules to follow, meetings to attend, appointments to make and reports to write. Below are the duties, powers and responsibilities of SG's president.
Have a vote on FAU's Board of Trustees, the 13-member board that votes on university policy, decides on how FAU's money is spent and the cost of tuition, among other things. The BOT meets monthly.
Appoint students to serve on university-wide committees, councils and/or boards. Examples include directors of Graduate Student Association (which oversees a $243,498 budget) and the Homecoming Committee ($219,080).
Chair the first meeting of the University Budget and Appropriations Committee, which allocated $7,078,549 of student money across campuses this academic year.
Appoint the station managers of OWLTV and OwlRadio, as well as the Editor-in-Chief of the UP.
Chair meeting of the Board of Governors. Each campus has its own BOG. The Boca BOG alone includes the campus governor and directors of SG organizations like Council of Student Organizations, Multicultural Programming, Program Board, NightOwls, Students Advocating Volunteer Involvement, the Peer Education Team and the Graduate Student Association.
Appoint a Chief Justice. The chief justice leads the judicial branch, which reviews SG election complaints, student petitions about SG statutes and can propose changing SG statutes.
Sign or veto legislation that comes from the four campus House of Representatives, and the Student Senate. Campus Houses vote on legislation at their campus, and the Senate votes on legislation that affects all campuses.
Initiate legislation for the Senate to consider.
Appoint or remove President's Executive Cabinet members.
Give reports to the Senate at each of their meetings. The Senate meets at least twice a semester.
Give reports to each of the four campus House of Representatives at least once a month.
Give the State of the Student Body Address each year.
Chair any SG committee created for a specific purpose, as ordered by the Vice President of Student Affairs.
Follow and enforce the SG's constitution and statutes.
Be SG's official spokesperson.
Be the head of SG.
NOTE: All presidential appointments are subject to a two-thirds confirmation vote by the Senate, with the exception of the President's Executive Cabinet members, which require the Senate's majority vote.
Source: Article IV of SG's Constitution, SG statutes 501.000-501.290, Activities and Service Fee Budget 2011-2012
Above and beyond
In addition to his required duties, President Ayden Maher's done more things not asked of him by the SG's constitution or its statutes.
Sparked the Boca Student Union renovation, getting new carpeting, pool tables, TVs, door signs and a paint job, among other things.
Voted to increase tuition in Summer 2010.
Helped fund the LGBT Resource Center, which got its first ever central office in January 2011.
Vetoed ballot questions. The questions would have asked students on the boca campus their opinions on university policies about marijuana possession, parking tickets, sexual-orientation-based discrimination policy and improving MyFAU course registration.
Funded an alumni statue. Maher used $22,000 from his executive account to pay for a statue being unveiled near the Rec Center on Oct. 13.
Got new bike and skateboard racks around the Boca campus. $16,000 came from SG, and $16,000 from Facilities Planning to pay for it.
Got new metal bins for the UP.