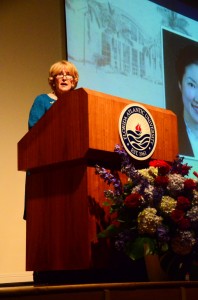 FAU President Mary Jane Saunders gave a 50-minute speech that highlighted a record number of students enrolled, a tuition hike of 15 percent, countless academic achievements and new budget cuts under consideration.Saunders, FAU's 6th president, delivered her second State of the University Address on Sept. 7, updating the community on the state of affairs at FAU.
President Saunders said that FAU began with 800 students enrolled in its first year, moving quickly on to the record-setting 29,400 students enrolled this year. She explained that the higher enrollment saved FAU from even bigger budget troubles.
"The successful plan to increase our student body this Fall has been of substantial help in mitigating deep cuts," said Saunders. She added, "Our operating funds were reduced by $24 million in our 2011-2012 budget. While we carefully planned for the elimination of 11.6 million dollars, loss of the additional [$12.4 million in] funding was unanticipated."
On top of admitting additional students to alleviate budget woes, President Saunders said the university had "reluctantly raised tuition by the maximum allowable amount of 15 percent," and is considering "outsourcing some services, merging administrative support units, consolidating class sections with additional TA support and allowing flexible work scheduling" as a "broad range of cost-cutting efficiencies."
While that outlines what is being proposed in budget cut discussions, President Saunders acknowledged, "conversations about the budget are now taking place across the university, so if you have ideas about how the university can continue to cut costs, please share them, everyone's input is welcomed and valued."
The tough economic times our university faces are balanced, however, by a long list of academic achievements and advancements made during President Saunders' time in office. She reminded her audience that "just as we have weathered other tough times, we will weather this storm and our university will emerge as stronger, more resilient, more resourceful."
President Saunders' plan to make "Bigger, Better, Bolder" the characteristic phrase of FAU, which involves "undertaking a revision of the Strategic Plan, a process well under way." The new plan will revolve around "three signature themes for the university: marine and coastal issues, biotechnology, and contemporary societal challenges."
There was plenty for President Saunders to brag about when it came time to discuss academic achievement and the funds granted to various university organizations, research initiatives and faculty members. Here are some of the things she cited:
– Sponsored research funding exceeded $43.2 million during the 2010 – 2011 fiscal year. The number of awards increased from 227 to 335, a 21 percent increase in one year. Eighteen awards were funded at $500,000 or more.
– A College of Education team received a $2.7 million grant.
– Dr. Erika Hoff was granted $3.2 million to study language development in young children.
– An Ocean Engineering team of students placed first for speed at the 11th Annual International Human-Powered Submarine Races in Maryland.
– Dr. Jeffrey Morton's Diplomacy Program students won the top award at last spring's Model United Nations competition in New York.
You can hear the rest of FAU's accomplishments and problems in President Saunders' speech, which is archived online. Visit www.fau.edu/webcast and select "State of the University" under past webcasts or click here for the direct link. Windows Media Player is required.