Lighting up the night
Nights at FAU are deserted, dark, and in some parts, downright scary. Streetlights are out, some walkways are hardly lit, and in other spots, huge bushes and overgrown trees block pathways.
As the Director of Environmental Health and Safety, it's Tom Bradley's job to identify unsafe places at FAU – especially for students walking around at night.
FAU hosted it's 5th Annual Safety Walk on Sept. 6 as a part of Safety Month. Bradley, housing directors and various staff members from different departments, patrolled the campus in golf carts (no walking included) in order to find potentially hazardous places.
Bradley kept an eye out for bushes and trees too close to building entrances. Places with high vegetation allow "evil-doers" to hide and  attack unsuspecting victims.
FAU aims to have 95 percent of the lights on around campus at all times, but there are still parts of campus that are dark. By identifying these areas, Bradley and the Department of Environmental Health and Safety hope to fix lighting and landscaping issues as soon as possible in order to provide a secure environment for students.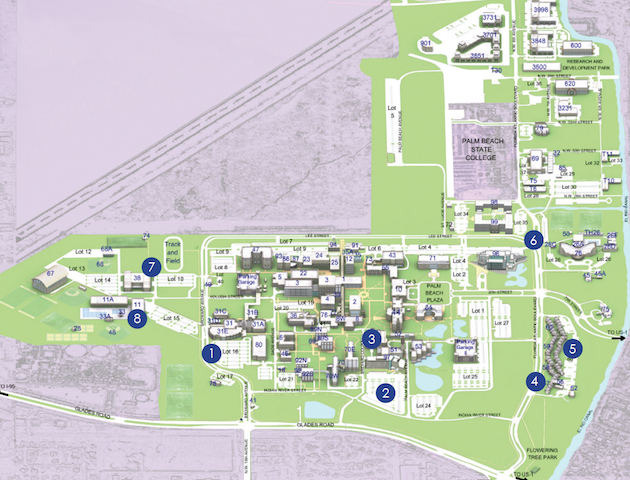 1. Several streetlights were out in Lot 16 near the Student Union.
2. Streetlights were out in Lot 23 near Living Room Theaters.
3. Lights were out near the University Theatre.
4. Several of the lights were turned off on the west side of FAU Blvd.
5. UVA Lot 60 had many lights not working, most likely because of a lightning storm that occurred prior to the Safety Walk.
6. There were very large and overgrown trees on FAU Blvd from UVA to IVA.
7. The Ropes Course lights were not working.
8. The Athletic Center had overgrown bushes by doors that needed to be trimmed.
9. The FAU logo near the airport (the one that is visible from I-95) was not illuminated.