COMMENTARY: A special UP investigation finds FAU Police follows campus security laws, but could be more transparent about it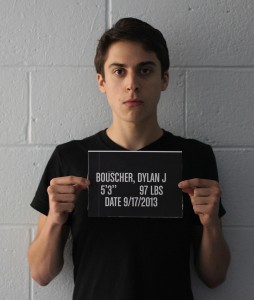 September is National Safety month at FAU — what better time to inspect the force responsible for keeping you, the student, safe on this campus?
Our investigation of the FAU Police Department didn't really start this month, it started last November. There was an armed robbery of an iPad, in a piano rehearsal room in the College of Arts and Letters that led to a campus-wide lockdown. The intruder was never caught. Before that armed robbery, an FAU PD captain was caught with pornography in 2006, and another officer's alleged murder of a 29-year-old escort in 2011 resulted in a wrongful death lawsuit being brought against the university.
So I decided to look up statistics for crimes committed at our university. I started with the annual report FAU PD has to release every year, as part of a federal law known as the Jeanne Clery Disclosure of Campus Security Policy and Campus Crime Statistics Act. The law requires any university receiving money from the U.S. Department of Education to keep records and statistics on every crime committed on campus to keep being funded — or pay fines for disobedience.
The most disturbing trend was a dip in "forcible sex offenses" — also known as rape to anyone outside a campus police force — from four in both 2009 and 2010 to just one in 2011. When you compare that to two rapes being reported in 2011 at New College of Florida, a school with less than 900 students, to FAU's enrollment growing in that time from 27,707 to 30,038, something does not add up.
Meanwhile, at a private school like Yale University, where the total enrollment is around 11,800, the Department of Education investigated the school for not doing enough to scrub its campuses clean of the criminals responsible for 18 sex offenses in 2011.
So when schools with less than half FAU's enrollment are reporting more than two times the amount of sex offenses on their campuses, you can imagine why I'm curious to know if FAU PD is reclassifying, underreporting, or flat-out ignoring crimes on campus. And in order to give FAU's statistics some context, I talked to some experts on campus security nationwide to see how this school compared.
When I wanted to double-check FAU's reported stats, I tallied the number of individual crimes reported and compared them to our annual stats. Except the first time I requested the last three years' worth of police reports, FAU's Media Relations department told me it would cost $17,000 for the records. The Sun Sentinel and Society of Professional Journalists thought that price was absurd enough to be news.
Then, an attorney took my case for free and whittled the estimate down to $900.73 for "public" records. With ten more months of legal back and forth, more curiosity and patience than your average, tweeting millennial can muster, and a will to sift through a stack of police reports as thick as the sixth Harry Potter novel, the UP can finally report how safe FAU is compared to other schools in the state and around the country. We're taking the rest of this issue to show how FAU PD is solving more crimes with smaller budgets over time.
Next month the 2013 Clery Act report will be out. That means you can count on us to follow-up and crunch the numbers again to see if FAU is any more or less safe this year than last.