Maddy's Movies: "The World's End" is a different kind of finale to The Blood and Ice Cream Trilogy.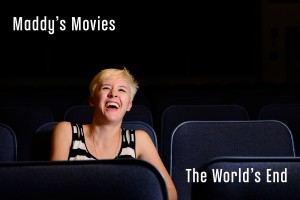 I really can't say it better than Simon Pegg's Gary King: "We're going to see this through to the bitter end. Or — lager end." Yes, the famous "Three Flavours Cornetto Trilogy" of writers Pegg and Edgar Wright has come to its finale with "The World's End." And it was good. But fans beware, it's not quite your "Shuan of the Dead" or "Hot Fuzz."
Diehard fans of "Shaun of the Dead" and "Hot Fuzz" know very well that Pegg and Wright's movies have been referred to as the "Three Flavours Cornetto Trilogy" or "The Blood and Ice Cream Trilogy." That's because in each film, there is a different flavor or Cornetto (an ice cream snack) featured. And if you didn't know that — surprise!
"The World's End" is the last flavor of this trilogy and though all three movies don't have much else in common except for the writers, some of the actors and the cornettos, this movie is much different from the first two in both mood and style.
The film follows five mates, Gary King, Andy Knightley, Oliver Chamberlain, Steven Prince and Peter Page, from the small town of Newton Haven. After graduating, the friends attempt the infamous "Golden Mile," drinking a pint in each of the town's 12 pubs ending with The World's End pub. However, the young 18 year-olds never make it to the end and part ways after that night.
Twenty-three years later, an older yet still eccentric Gary King (a hilarious Simon Pegg) is getting the old mates back together for one more attempt at the "Golden Mile." But while King still lives in the past, his friends have all grown up, gotten jobs and married.
Nonetheless, King is able to convince Andy (Nick Frost), Oliver (Martin Freeman), Steve (Paddy Considine) and Peter (Eddie Marsan) to come on this adventure that turns out to be anything but your typical pub crawl.
Ok, so, "The World's End." Remember when I said it was different than the first two? Right. Just know that going in. And don't go see it with high expectations (like I did). Just go in with an open mind.
The movie is still pretty awesome, and funny.
I mean, you're laughing throughout the whole film at Pegg's idiotic character who can't seem to grow out of inappropriate comments and his friends who unwilling follow along.
And the fighting is cool. Not as intense or bloody as in "Shaun of the Dead" or "Hot Fuzz" but there is this moment where Frost's character just loses it and smashes in the heads of twenty different robots (oh yeah, this film has robots but you knew that from the trailers). And there is that tender friendship moment in the movie between Pegg and Frost that melts my heart every time. But, man, does this movie give off a different vibe.
There is a lot of stuff going on in this film. In a way, it felt very much like the end of an era. A last hurrah, if you will, from Pegg and Wright who felt the need to cram everything in.
At times the movie feels like there is too much going on between the action and plot-line. But other parts of the movie feel like old times with the right amount of witty humor between the characters.
The love triangle between Steve, King and Oliver's sister Sam Chamberlain (I just love Rosamund Pike) is subtle enough that it doesn't interfere with the movie's main plot. All the actors are great and there is not one dull character in the film you wish would just die (like hard-ass Pete in "Shaun of the Dead").
It's a movie I would see again knowing how different it is from the first two.
But I would see it again because as true fans know, these movies are full of foreshadowing, cameos (I'm not even going to give you a hint of who's in this movie because it's just too awesome to spoil), and easter eggs just waiting to be found. You don't think the names of the twelve pubs don't all mean anything? Come on. It's what Pegg and Wright are good at.
So after seeing this film with your best mates, go out and have a pint and talk about it. Maybe you liked it, maybe you didn't. But in the end all that matters is that you're with your good friends enjoying a cold one. The King (Gary King) would be proud.
I give "The World's End", two and a half pints of beer. Or a B. A fitting ending to the trilogy. I'm just sad that it's over.