FAU students face off in laser tag games on campus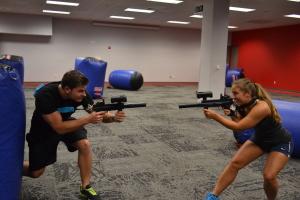 Crouched below the inflatable barriers, I peeked out to snap photos of the brave young warriors who knew damn-well what they signed up for.
I didn't know it, but laser beams were flying all around me, and if I had a weapon of my own, I'd have been shot many times over already. Armed with only a camera, I had to get an objective report of the battle and return home safely for my next assignment.
I entered the Grand Palm Room of the Boca campus student union on Friday, July 19 and awaited the entry of students who squared off in a game of laser tag. They filed in one after another and received their weapons at the front desk, old Tippman paintball guns, converted into laser tag guns.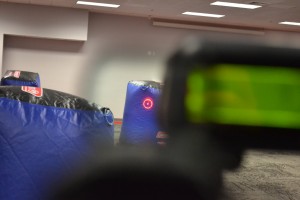 According to Tippman Laser Tag, the guns feature the body of paintball guns, but have an infrared laser barrel that shoots invisible beams of light rather than balls of paint. The guns have receivers mounted to them that display the number of shots remaining in the gun, how many times the player has been hit, and how many opposing players the player has eliminated.
The lights went out and the game began. Combatants couldn't see two feet in front of their own faces, but each weapon had a light on them, so the players knew where to aim. The guns were also fitted with red-dot-sights that emit a holographic reticle on its display to assist the operator in aiming.
The battle was a free-for-all, but some players did form teams in the middle of the game, in an effort to improve their chances of survival. Some players stayed in certain corners of the room or remained ducked below the inflatable obstacles. Others moved around the room tactically, taking out as many enemies as possible.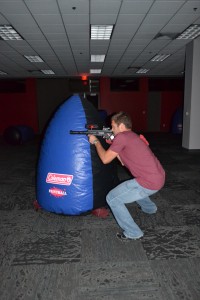 "You can see how people's strategic skills play out," Keane Bhim, sophomore health administration major told the UP.
The battle ended with no casualties and no collateral damage to the local culture or property. This was definitely the most successful battle I have ever been a part of. The students returned their weapons at the front, and left the room to catch their breath.
"It was a rush!" Nick Voils, Senior Exercise Science major told the UP.
According to Assistant Director of the Student Union Lauren Adamo, around 150 people signed up for the game, but said that more may have participated.
Andrew Rodriguez, CEO of Laser Tag of Miami told the UP they charged the university $540 for the event.
Most of the players were drenched in sweat, but had no visible wounds from combat.