Owls sputter late, fall to No. 20 Miami 5-4 in 11 innings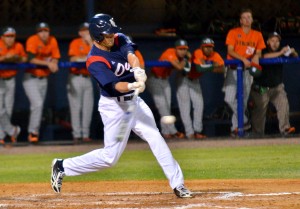 It would take two extra innings, but FAU suffered its first loss of the year, 5-4, against the No. 20 Miami Hurricanes in an eleven-inning contest.
In the bottom of the eleventh, with the Owls trailing and the tying man on base, Corey Keller grounded into a game-ending double play, cementing defeat. In the top half of the inning, UM scored on a single by Brad Figer, putting them ahead for good.
FAU led 4-2 in the eighth inning, when it was time to close the game. Senior relief pitcher Hugh Adams was called from the bullpen and took his place on the mound to attempt a four-out save.
His very first pitch put an end to that.
Miami first baseman David Thompson blasted Adams' fastball out of the park, knotting the game at 4-4.
"He missed," FAU head coach John McCormack said. "It was supposed to be low and it ended up belt-high."
The Owls had several chances to win in the ninth (bases loaded) and tenth (stranded runner on second) innings, but failed to capitalize.
"We had so many opportunities to close this one out," McCormack said.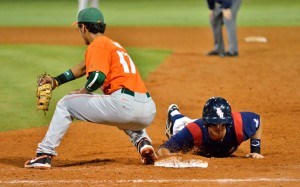 By the end of the ninth inning, the Owls had left twelve men stranded on base.
Freshman starter Brandon Rhodes put in 5.3 innings of quality baseball, allowing just two runs. He struck out four batters, walking just one. Were it not for an extended fifth inning that saw him throw eight pitches just to retire the first batter, Rhodes might have stayed in the game.
"Yeah, it was a longer inning, and we had to get him out of there," McCormack said. Sophomore Bo Logan replaced Rhodes, recording two strikeouts without allowing a run over two innings.
On the offensive side of things, FAU's Nathan Pittman drove in the first run of the game and went 2-5 on the night. With a shot to third, Santiago made it to second while scoring. Junior Tyler Rocklein recorded a two-run homer in the fifth.
McCormack doesn't take much out of this loss.
"It was extremely disappointing," he said. "We had plenty of opportunities to win that game. If we want to go beyond winning a conference championship and getting into a Regional or Super Regional, we have to win this game at home — there are no ifs, ands, or buts."
The Owls begin their three-game series against Alabama on Friday, Feb. 22. First pitch is scheduled for 6:30 p.m. at FAU Baseball Stadium.