Get to know your Campus Governor candidates
One candidate wants to add more parking spaces. Another wants to make the campus safer. Others want the student body to know about what Student Government does. With elections coming up, student should know who they are voting for as their new Campus Governor.
It's not all about the free parking spot or the SG-issued iPhone. Whoever is elected as Boca Campus Governor will supervise all of the directors of the Student Government funded programs for the Boca campus, have a budget under the Governor's Project Account that allows them to use funding for programming on campus and projects, and assist the student body president with carrying out projects and initiatives.
[title type="h3″]Meet the candidates for Boca Campus Governor.[/title]
Bianca Ilardi, junior, neuroscience and behavior
"I want all the students' opinions. I have physically gone out through my campaign and I have asked people, 'What do you want to see that's different?' and I have gotten all their opinions and I really want to voice that fact. Definitely parking would be [my biggest concern]. Because I know personally, as a student, sometimes I get here half an hour early for class and I'm still late because I can't find parking. We really need more parking."
[divider type="space_thin"]

Rebeca Sosa, junior, political science and sociology
"I have been involved in student government for two and a half years. I have held various positions. I have held secretary, parliamentarian, and I'm currently the chair for one of the committees that looks over anything that's funded with students money. I would want to influence students and make them more knowledgeable of what SG does. I'd say because I have the most experience regarding the position, I know my statutes and constitution. I want things to be done the right way, I want the right person chosen. I want someone that's going to promote transparency and a stronger communication for the general welfare of the student body."
[divider type="space_thin"]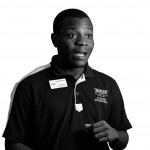 Jupiter Fleurimon, junior, nursing and French
"I spent the last semester as an observer, watching events unfold in Student Government. We have to have better communication with the student population. We have to take our time and see what will benefit the students. The thing I'm going to do is work along with the president and vice president and make sure that the voice of the students get heard. Make sure we don't get another 15 percent increase in tuition."
[divider type="space_thin"]
James Lavia, criminal justice
"Honestly, I want to fight for a designated place for skaters. I want to improve parking. If we could reduce the cost of laundry in the dorms. I want to help out our fellow students. Certain dorms force you to have a meal plan. Back in my freshman year, we had a petition to make that optional. If elected, that's something that I might want to look back into."
Charles Berichi, masters, public administration
"I have five years student government experience and 10 years paid work experience. Expediting the allocation of funds to clubs that are granted said funds [is my main goal]. Furthermore, seeing more ideas proposed for allocation of funds."
Katia Vallecillo, sophomore, anthropology
"I believe my determination is my best quality. Everything I do, I always give it all that I can. I would focus more on being able to do fun things, but using our funds wisely. I know how to make the best of how our funds are used. I think that there are very few people that could love this school more than me. I honestly want to do the best for this school. It's not just for me."
Anthony Campbell, biology
"I add a new dynamic to Student Government. I am a biology major. Adding to this diversity, I'm also from another country (Jamaica), which further allows me to better represent international students as well as locals. While it may be customary to have the political or law oriented students hold office in SG, these positions call for representing the 'whole' student body, and what better way than to have a diversified group in office? We preach diversity, now let's lead by example. [My goal is that] the money [A&S Fees] will not be tied up in SG accounts, but will be circulating throughout the student organizations, making dreams reality, getting more students active on campus."
Fawn Coba, masters, political science
"One of [my goals] would be to put a law school on this campus. And to begin that goal, I think that security is really an important thing that needs to be taken care of on this campus. It has been recently called to my attention that we have reserved funds from the technology fees. Our technology fees are not all being spent toward technology and we do not have access to these funds. I would like to get access to these funds so that we can make this campus safer."
[title type="h3″]Broward Campus Governor Candidates:[/title]
John Cordero, senior, exceptional student education
"For almost two years, I have experience working with a budget. I have experience with what the students need. I have talked to students first hand for the almost two years I have been in Student Government. My main goal is implementing a bus system between Broward and Boca. I've already looked into it and FIU has one that is funded by the city. I would like to see that pushed through within the next few years."
Kistna Alper, junior, marketing
"I have a lot of experience. I've worked with several businesses and several industries. I know how business works. One of the problems I have on this campus is the issues with desk space. I would very much like to have enough space on the desk to hold a book and a notebook. That is a problem."
[title type="h3″]MacArthur (Jupiter) Campus Candidate:[/title]
Kadeem Ricketts, economics and biology
"I am running for re-election as Student Body Governor because I thoroughly enjoyed being an advocate for my fellow students on campus. I want to continue to promote the transparency of Student Government by many of the initiatives that have started during my first term. We are trying our best to make sure that Student Government is really an entity that serves students and not just the special interests of people that have been entrusted to lead."
Log on to my.fau.edu to vote on Tuesday Feb. 19 and Wednesday Feb. 20. Polls Open at 12:00 a.m. and close at 11:59 p.m. on Wednesday Feb. 20.