FAU students are going greek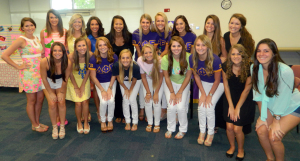 Alpha? Delta? Sigma? Theta? Greek societies are a popular topic when talking about college. Some incoming freshmen are on the fence about what to get involved with and how to start. As the fall semester quickly approaches, FAU's Fraternities and Sororities are preparing for recruitment.
Greek recruitment, also known as Rush Week, has always been controversial due to the cases of hazing and other incidents reported throughout the country. However, according to junior and member of Delta Phi Epsilon, Hailey Glenn, "recruitment is just a lot of long nights with your potential sisters."
Every night during Rush Week is considered a new round where each candidate will talk to representatives from every sorority within the National Pan-Hellenic Council between 45 to 60 minutes. This gives them a chance to see where the candidate fits and to have any questions they have answered regarding sorority life.
Sororities within the Multicultural Greek Council take a similar approach to recruitment with a bit of an extra touch to display the diversity of their organizations.
"Our recruitment style is by each organization hosting informationals where non-Greek members are encouraged to learn more about the organization," said Stephanie Marte, president of Lambda Theta Alpha Latin Sorority, Inc.
"I would say our biggest recruitment event would be our MGC expo which is when each organization in MGC showcases their salutes, steps and strolls," said Marte.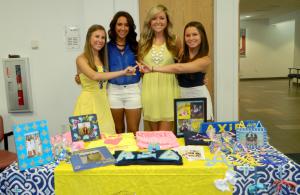 Sororities and fraternities take completely different approaches to recruitment. "Sorority recruitment is more formal and fraternities are more informal," Kyle Lloyd, president of Alpha Tau Omega Fraternity, Inc. wrote in an email interview with the UP.
"Potential new members choose which events they want to go to. The week starts off with an open house where eight members from each organization represent their chapter to answer any questions that potential new members may have," Lloyd wrote. "The rest of the week is more of a free-for-all, each fraternity makes an event each day and bids, or invitations in to a fraternity, are given out to the guys who have made themselves known to be good quality individuals."
It is common to hear nasty rumors about the Greek lifestyle. Fraternities and sororities alike have the reputation as another excuse for college students to throw their parents' money into drinking and partying.
"FAU's Greek life is far from the stereotypical 'fraternity life' experience. We are a collection of driven individuals who pride ourselves on bettering the FAU community, " Ryan Quinn, the Vice President of Phi Delta Theta Fraternity, Inc., said.
Members of these organizations consistently use one word to describe themselves, "family."
Braylon Bush, freshman bio-chemistry major expressed interest in joining a fraternity in the Fall.
"I'm interested in, not like, the partying side of it, but what exactly they do outside of that. What they do outside of the school and what they do as the Greek family," Bush told the UP.
"Personally, I got into a really bad accident in November of 2012 and was unable to walk for a couple of months. The support that my chapter and other brothers across the state and various regions showed me was incredible," said Jordan Chang, a graduate student and member of Kappa Alpha Psi. "One of our organization's 5 objectives is 'to unite college men of culture, patriotism, and honor in a bond of fraternity,' and I truly felt this unity throughout such a challenging period."
However, Greek life isn't for everyone. Kyle Mclaughlin, a junior engineering major said, "Just never really seemed like the kind of thing that I identify myself as, like the person that's in one of those kinds of things."
Recruitment will not officially begin until the first week of Fall classes. The MGC and NPHC 'Welcome Reception' will be held Wednesday, August 21 at 5PM in the Boca campus Student Union. The College Panhellenic Association orientation will be held Monday, August 26 at 5:30PM in the Barry Kaye auditorium. Fraternity recruitment begins Tuesday, September 3. All interested in recruitment into an NPHC sorority must apply by August 25. The application can be found at fau.edu/fslife.
[In a previous version of this story, the UP incorrectly reported which sorority FAU student Hailey Glenn is in. The error has since been corrected.]