FAU football featured extensively in new Conference USA digital media guide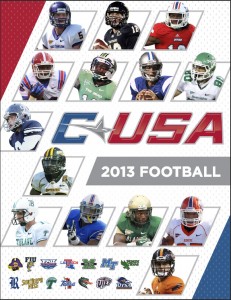 If FAU football fans are seeking a breakdown of the team and upcoming season, they need look no further.
On Monday, Conference USA released its 2013 football digital media guide, which features a dedicated section for information on all C-USA teams.
FAU's section of the guide, spanning from pages 17-20, includes just about everything one needs to know about the 2013 Owls team. This year, FAU became new members of Conference USA after leaving the Sun Belt Conference.
Incorporated in the guide is FAU facts and tidbits, its regular season schedule, 2012 results, a breakdown of the coaching staff, new recruits, and other notable statistics.
The Owls' 2013 schedule has matchups against teams such as Miami and South Florida. At least seven of these games are slated for national television on networks like ESPNU and FOX Sports.
Also listed is a section of key departures, which includes former starting quarterback Graham Wilbert, who threw for 2,819 yards and 18 touchdowns in 11 starts last season.
On the defensive side of the ball, the Owls have lost linebacker David Hinds and safety Brent Harstad. Harstad's 103 tackles led the Owls defense while Hinds' 80 was good for second. Hinds now plays for the NFL's Miami Dolphins.
To view the Conference USA media guide in its entirety, click here.