Introducing FAU's first year men's basketball players
Rolando Rosa, Mohamed Abdihakim, Cyrus Smith, and Bryant Eng
November 7, 2012
With eight new players, FAU basketball might be hard to recognize. The UP introduces you to the new cast.
Chris Bryant
Height: 6'8"
Weight: 210 pounds
High school: Fishburne Military School (Waynesboro, Va.)
By Mohamed Abdihakim
Basketball: While playing at Tallahassee-Rickards high school, Chris Bryant won two class 3A state titles, while also earning MVP of the division. Bryant broke into the nation's top 100 players in the country before finishing his high school career at Fishburne Military School. There, Bryant would earn several accolades including the Big Bend player of the year and state tournament MVP before joining the Owls.
Non-basketball: When they're not in practice, Bryant and teammates walk around campus, sporting British accents, and convincing people they're authentic Englishmen.
"They actually think we're British," Bryant said with a smile. "Some people get shocked when they find out we're actually not.
"I have to be in the next Friday movie — Last Friday, or something, I have to."
Stefan Moody
Height: 5'10"
Weight: 170 pounds
High school: Poinciana High School (Orlando, Fla.)
By Mohamed Abdihakim
Basketball: As a high school player, Stefan Moody made school history at Poinciana when he became the school's first Parade All-American, averaging 27.9 points per game his senior year. He was also named to the Orlando Sentinel's All Central Florida list.
Non-basketball: His aspirations, much like those of his teammates, involve making it to the NBA. But, he's under no illusions.
"I'm obviously going to work for it, but I see myself as a guy who can make it overseas," Moody said. "I also want to get my degree, have a little job after basketball, so that I'm living good."
Cavon Baker
Height: 6'1"
Weight: 170 pounds
High school: New Hope Academy (Landover Hills, Md.)
By Mohamed Abdihakim
Basketball: Beginning his high school career at Thomas Edison, Cavon Baker boasted an average of 18 points per game. For his final year of high school ball, Baker would move on to New Hope Academy (Maryland). He would lead the team to a 30-4 record before making his way to FAU.
Non-basketball: "Women" was his first answer to an inquiry on his interests. Dig a little deeper, though and Baker reveals an interest in acting.
"Acting was fun. I mainly did school productions and what not in high school."
"I'm just a guy you want to be around, a fun guy. Easy to talk to, easy to get along with," Baker said. "Just … smoothe. Always smoothe, I have my own pace. On the court, off the court, all around."
Justin Raffington
Height: 6' 9"
Weight: 245 pounds
Transfer: University of San Francisco
By Cyrus Smith
Basketball: Justin Raffington is not your typical big man. With the ability to post up and shoot from the perimeter, Raffington will add a new dynamic to the FAU men's basketball team after he's done redshirting. Coach Jarvis wants him to play on the perimeter a lot more, something which will be a new experience, but one he's looking forward to.
Non-basketball: Born and raised in Freiburg, Germany, Raffington is enjoying the cultural differences in Boca.
"I like FAU a lot," Raffington said. "Boca Raton is very different from San Francisco in that San Francisco was more of a European city and European lifestyle, whereas from a European perspective, Boca Raton is just like how I would think an American city would be like."
Jackson Trapp
Height: 6' 4"
Weight: 195 pounds
High School: Fishburne Military School (Waynesboro, Va.)
By Cyrus Smith
Basketball: Jackson Trapp suffers from White Men Can't Jump syndrome.
He says at first, most people don't think he's athletic. They automatically assume he's just a shooter, but he can actually handle the ball and dunk.
At 6-foot-4, Orlando native Trapp has the athletic ability of a forward and the ball handling skills of a point guard, giving head coach Mike Jarvis a variety of options to use him for this season.
Non-basketball: Jackson's dad, Richard Trapp, is a former Florida Gator wide receiver who is in the University of Florida Athletic Hall of Fame. Trapp's athletic bloodline does not end there as his mom plays tennis and even enters couple tournaments with his dad.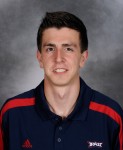 Javier Lacunza
Height: 6'8"
Weight: 205 pounds
High school: Hudson Falls (N.Y.)
By Rolando Rosa
Basketball: Javier Lacunza arrives from Hudson Falls High School, where he had a game of 31 points and 20 rebounds last season. Now that he's living in Florida, Lacunza doesn't get to talk to his parents as much, but is getting a lot of help from the other foreign players.
He says that whenever he's confused on the court, he turns to Pablo Bertone for advice. He and Dragan Sekelja have helped him adjust to life away home.
Non-Basketball: Spaniard Lacunza has expanded his musical tastes since joining the Owls.  His fellow teammates are getting him into rap, something he couldn't imagine listening to back in Spain.
"I don't dance to rap. The guys need to show me how to dance to rap," Lacunza said with a smile. "I like house, techno. Now I'm getting into rap music, the kind of music these guys put on their phones."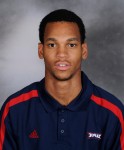 DeVonte Thornton
Height: 6'8"
Weight: 185 pounds
High school: Osborne High School (Marietta, Ga.)
Basketball: DeVonte Thornton was a big-time performer as a high school player in Georgia. He averaged 19 points and six rebounds last year at Osborne High School, leading them to their first state playoff appearance in 10 years.
Non basketball:  If Thornton doesn't play pro ball after he graduates at FAU, the forward plans on being a trendsetter.
"I have a clothing line coming up. It's called Lions and Mouse. That's the main thing I've been trying to work on," Thornton said. "It's going to be sweaters, T-shirts. I'm not going to start on jeans until I get bigger than what I am now."
Austin Hunt
Height: 6'2"
Weight: 175 pounds
High school: Palmetto High School (Miami, Fla.)
By Bryant Eng
Basketball: Following a successful career at Palmetto High School, Austin Hunt brought his talents to FAU, but his body was not quite ready for division one basketball.
Hunt was about 160 pounds when he joined the Owls last season but after adding 15 pounds of beef to his 6-foot-2 frame during his redshirt year, the guard is more than ready to contribute.
Hunt anticipates that his role on the team will be as a defensive specialist, and his increased strength should allow him to match up with some of the Sun Belt Conference's more physical guards.
Non basketball: Marketing major