Gunman on FAU's Boca campus, university on lockdown
Today, students on FAU's Boca campus were on lockdown for three hours.
At 1:11 p.m., FAU sent out the first alert reading: "Armed intruder/shooter in Arts & Letters, Boca. Remain alert. Seek shelter in secure location. Follow police instructions."
According to FAU's alert system, the suspect was a 5-foot-10 black male with a muscular build, dressed in a white shirt and white pants.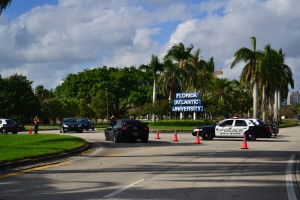 Palm Beach State College  and A.D. Henderson University School were on lockdown this afternoon as well.
At 3:20 p.m., police were not allowing cars to enter campus, and were searching cars that were leaving.
Around 3:45 p.m., Tyler Griffine, a senior criminal justice major, and Sam Lyon, a senior English major, were two of the 10 students waiting outside FAU's main entrance.
"I was with my homeboy and I came back [on campus] and they told me I can't go back to my dorm in Innovation Village Apartments South," Griffine said. "I've been out here for about an hour now."
"I have a friend who has been here since this morning, and he's not answering his phone," Lyon said. "I'm worried."
The suspect is still at large according to FAU police Chief Charles Lowe and officers are continuing to search campus and nearby areas for the gunman. Lowe said he would not comment on the specifics of the investigation at the press conference outside the FAU Police Station at 4:45 p.m.
The UP will keep you updated on the story.