Football: FAU running back Alfred Morris drafted by Washington Redskins in 6th round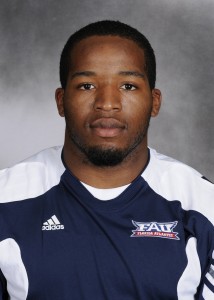 Saturday afternoon, April 28, former FAU running back Alfred Morris saw his name appear on ESPN.
He was selected by the Washington Redskins as the 3rd pick in the 6th round of the NFL draft, the 173rd pick overall. Morris became the first running back to ever be drafted out of FAU.
Morris is listed on the ESPN.com player profile as 5-foot-9 and 219 pounds. He was invited to the NFL scouting combine in Indianapolis where he clocked in at 4.67 seconds in the 40 yard dash. The 23-year-old Morris is the Owls all time leading rusher — in his four seasons on the team, he produced a total of 3,253 yards on 732 attempts with 27 rushing touchdowns.
As a senior, his most productive game would come against the University of Alabama-Birmingham. Morris rushed for an FAU record — 198 yards, 38 carries and 4 touchdowns.
After the victory, head coach Howard Schnellenberger would bestow an honor upon the running back.
"The only time I've seen what I saw out there tonight was when I was with the Dolphins, and I watched Larry Csonka run roughshod over all the defenders that tried to bring him down."
Washington Redskins head coach Mike Shanahan got his first look at Morris in the Senior Bowl and Morris said he caught the attention of Shanahan, who coached him.
"After the game, [Shanahan] flagged me down and told me I did a good job," Morris told the UP in February.  "So that was just icing on the cake."
[Ed note: In a previous version of this story, Troy University was named as the school Morris had his highest yardage total against. It has since been corrected.]