Men's Basketball: FAU loses to Troy 83-82 in season finale
FAU's season ended the same way it started: with a loss.
In a season filled with expectations of an NCAA Tournament bid instead ended with a 11-18 record and a four-game losing streak headed into the postseason.
FAU was held scoreless in the final 3:15 and blew a 19 point second half lead, losing 83-82 to Troy at the Burrow.
Owls head coach Mike Jarvis thinks his team was caught up in the lofty praise bestowed upon themselves in the preseason by national publications.
"We start possibly believing the hype and started thinking we can come and just show up and we're going to win. We stopped being hungry," Jarvis said. "Last year's team, not because of Brett [Royster], but because all the guys were hungrier. This team lacks hunger…maybe they thought last year was a great year. We went to the NIT. That's not a goal. Our goal is to go to the NCAA Tournament."
With the Owls up two, Troy's Will Weathers was fouled on a 3-point attempt by Dennis Mavin with 14.4 seconds and made all three free throws.
FAU had one last chance to redeem itself, but an Alex Tucker layup was off the mark with three seconds left.
The game winning possession by Troy was set up by a Tucker turnover with 30 seconds left.
It was the final game for seniors Shavar Richardson and Tucker. Afterwards, Tucker, FAU's all-time leader in assists, was remorseful for his role in the loss, kneeling at half court for over a minute in shock.
"I felt I cost us the game with that turnover," Tucker said. "I take complete responsibility for this loss…This one just hurt."
FAU had a 82-72 lead with 3:15 remaining before Troy closed the game on an 11-0 run.
According to head coach Mike Jarvis, the loss epitomized what was lacking from FAU all season: the ability to close games out.
"A lot of people have made a lot of excuses for this year," Jarvis said. "This team should have been better, this team still has the ability, but this team, like all of us in life, have to finish and you have to be mentally tough to be good at whatever you do.
Unfortunately, we are not."
Owls guard Greg Gantt had a season-high 28 points in the loss. Gantt connected on six 3s, and hit three straight early in the second half while FAU was building a 19 point lead. Troy's red hot shooting(54 percent overall) to close the game sent the blue-clad fans home in disappointment.
"With Troy, their entire team can shoot," Tucker said. "It's just about staying to our fundamentals of defense and trying to stop them but tonight we just kept trading baskets."
Jarvis believes his unit was talented enough this season to accomplish its goals, but total effort was lacking.
"We have not played hard for 40 minutes," Jarvis admitted. "Until we do that, we don't deserve to win."
Owls forward Pablo Bertone also had a season-high 20 points, with five rebounds and five assists.
Tucker had 10 assists in his final game at The Burrow. Richardson, with 12 points, went over the 1,000 point mark for his career.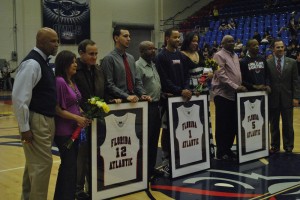 Jarvis dug deep into his coaching past for an example as to why FAU could not repeat as Sun Belt champions.
"If I had my Boston University team from the North Atlantic Conference, we'd win this league every year. Those suckers were tough," Jarvis said. "We don't have that right now."
The seeding of the Sun Belt Conference tournament is still in the process of being determined, but Jarvis knows his team needs much improvement no matter the opponent.
"We got a week to really get ready," Jarvis said. "Or we'll go home quick."