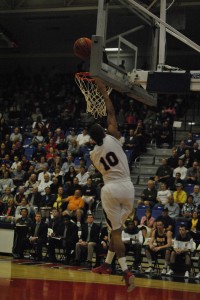 Coming off three straight non-home losses to strong competition, one might think FAU would be motivated to return home and crush its next opponent, 4-7 Siena from the MAAC — The Owls were favored to win the game by 11.
Think again.
Instead, the team was run off the court by a Siena squad that had just six players at its disposal.
Owls guard Greg Gantt scored 16 points in his return from an ankle injury, but it was not enough as FAU lost  67-60 to Siena at The Burrow. With 3:14 to play in the game and FAU down 61-54, Gantt cramped up while hustling for a loose ball and did not return. Head coach Mike Jarvis expects him to be ready for the next game.
"Cramps, these guys don't drink enough water," Jarvis said of his team's lack of conditioning. "I guess we're going to have to give them a gallon of water the night before a game."
Siena, despite playing with only six players, pushed the tempo and out-rebounded FAU 43-31. The Saints energy and aggression, along with a solid zone defense, proved to be the difference in the game.
"We looked like the team that had six guys to be honest with you," Jarvis said. "They were beating us up and down the court."
After making eight 3-pointers in the first half, FAU missed all ten of its 3-point attempts in the second half.
"Too many threes," said Jarvis. "It's fools gold. You open up the game, you hit a few, Greg makes a few early, Omari makes a few…[but] it's fools gold, it always is."
Jarvis was highly disappointed in his team's effort.
"There's very little difference between our talent level and most people we're going to play. The difference level is going to be how hard we play,"  he said. "If we don't play hard, we're not going to be very good."
Owls guard Omari Grier added 15 points, hitting four 3-pointers, but all came in the first half. Siena's zone defense held FAU to 24 points in the paint. Even though FAU carried a 39-36 lead into halftime, Siena shot 57.7 percent in the first half, compared to just 38.5 percent for FAU.
Siena won the game, yet committed 16 turnovers compared to just 9 for FAU. The Owls scored 13 points off Saints turnovers in the first half.
Saints forward OD Anosike led Sienna with a game-high 17 points and 13 rebounds.
Owls guard Ray Taylor had 13 points and 8 assists, but made only one out of his ten 3-point attempts.
FAU forward Jordan McCoy started the game, yet had little impact, contributing two points and two rebounds to go with a team-high four fouls.
Jarvis was not pleased with the three rebounds and no free throw attempts for Gantt in his return.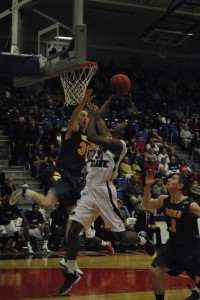 "I'm glad he's back," said Coach Jarvis of Gantt. "But he's gotta do a heck of a lot more than that."
Even though FAU is going into its Sun Belt Conference opener at ULL on Dec. 31 with four straight losses, Jarvis is optimistic that a loss like tonight's will be a remedy for his team's woes.
"I'm hoping that maybe a loss like this at home in a game that you're suppose to win, maybe that'll be good medicine," Jarvis said. "We'll find out tomorrow morning when we practice."