Commentary: FAU's 31-17 loss is embarrassing and a warning sign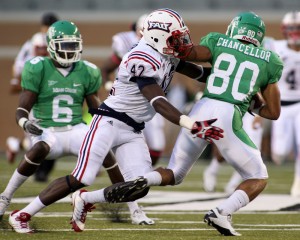 I've never seen an actual Owl fly with only one wing but that's what FAU's football Owls have looked like in each game so far in the 2011 season.
Each game a new excuse emerges as an attempt to explain poor execution on the field.
Off it, every one says the right things. No players blame each other more than they blame themselves when the microphone is placed in front of them. No coach has publicly called out another player or themselves enough to really take blame.
In the third quarter of FAU's baffling 31-17 loss to UNT the offense turned the ball over three times, all Graham Wilbert interceptions, and two were returned for touchdowns within 10 seconds of each other.
So as the defense was sitting on the sidelines, points were still being put on the scoreboard for North Texas.
Amazing.
"Graham (Wilbert) continued to have a terrible time, I took him out because he's our starting quarterback and will remain our starting quarterback until there's a definite indication David (Kooi)  has passed him up," said head coach Howard Schnellenberger.
It's inconceivable how backup quarterback David Kooi hasn't at least earned a second look to be the team's starting quarterback. Granted, he was sacked four times against UNT but he led two fourth quarter scoring drives to put the game within reach at 31-17.
Maybe in practice Kooi isn't so hot but in game play Wilbert is only completing a scarce fifty percent of his passes (68 completions in 135 attempts) and has seven interceptions to his four touchdowns.
Family Divided
After giving up 459 yards to Louisiana-Lafayette last week the defense was stout. They held running back Lance Dunbar in check for most of the game and held UNT to 237 total yards.
But none of that matters when the offense and special teams are the ones giving up the points.
Travis Jones fumbled a punt that was recovered at the Owls 4 yard line and set up the Mean Green to score the game's first points.
Last week it was Cortez Ash's roughing the punter penalty that led to the Cajuns first score after the defense forced ULL to go three-and-out.
It has to be wearing on the defense. They received a lot of blame for games like Michigan State and Louisiana-Lafayette and now they did their part only to watch everyone else crumble before their eyes.
"There is frustration, but we're a family," said linebacker Randell Johnson. "We're going to meet.  A team meeting with just players, and we're going to talk to each other. We need to fix this fast."
Each week there's a new theme to the team's attitude.
After Auburn it was 'finishing' and to 'have more fun' on the field.
But the next week against ULL the team failed to finish on both sides of the ball and it was the Ragin' Cajuns who 'finished' with a game-winning 26-yard field goal.
This week the Owls tried to focus more on execution, taking what was learned in practice and converting that on game day.
They looked lost instead, struggling out of the gate once again when the offense managed just 19 yards and four punts in the first quarter of the game.
What makes even less sense is that after averaging almost five yards a carry in the last two weeks combined, FAU seems to trust the inexperienced quarterback more than they trust the star running back.
Alfred Morris again was solid rushing for 162 yards on 23 carries and a touchdown.
Graham Wilbert played for the better part of three quarters and attempted 30 passes. There is no explanation for that. The team wasn't trailing by 31 points until the third quarter and that's because of Wilbert's mistakes. So that's when they decided to have him throw….more?
The focus each and every week should be getting the ball in Alfred Morris's hands. His numbers have improved each week and against the Mean Green he averaged seven yards-per-carry.
It seems so simple from an outside perspective so why is it so hard to see for the coaching staff?
"I've never seen so many unusual things happen to an offensive football team that has happened to ours, that was initiated by us, so we have no one else to blame," said Schnellenberger. "The defense isn't just battling the opponent but also in-house issues."
It's only a matter of time before the dam breaks, before sides are taken in the locker room and a divide is split on a team that is going nowhere fast.
The Owls claim to be a family but when the lights go on and the cameras are rolling they act like night and day between the different units.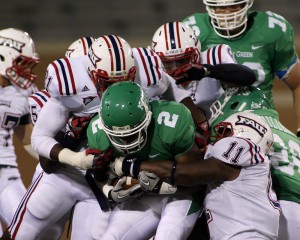 New stadium, new results?
I'm sure this is just how Howard Schnellenberger envisioned it.
A new stadium, one that is remarkable in every aspect — except the team that actually plays in it.
The Owls will open play in their new on-campus stadium next week against Western Kentucky at the bottom of the college football and Sun Belt Conference ranks.
Instead of marching in on any sort of high note the team comes in stumbling and fumbling at their own expense.
Last night's crowd at Apogee Stadium was 13,142. Apogee Stadium also opened for business this season and seats nearly 30,000 people. But North Texas was 1-4 entering Saturday night's contest and the team failed to sustain crowd interest thus far in their season.
The same thing will happen to FAU should they fail to pick up momentum — and quickly.
Two more losses eliminates any chance this team has of taking retiring head coach Howard Schnellenberger to a bowl game, and endangers him of having one of the all-time worst seasons of his coaching career.
The Owls will need to get back to the basics this week in practice.
Football 101, if you will.
A new era begins next weekend for FAU. Will the same disastrous team show up?
Or will they get to use both wings this time?